This is a fun happy blog!!!!
Here are two pictures of engagement rings that I saw and absoluetly fell in love with!!!!
Both are heart shaped diamonds.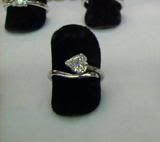 The second one is kind of hard to see but it is a heart diamond with a small oval diamond below it. They are both gorgeous!!!
now to find the man that will but me one....HA!!